by Soha | October 7, 2019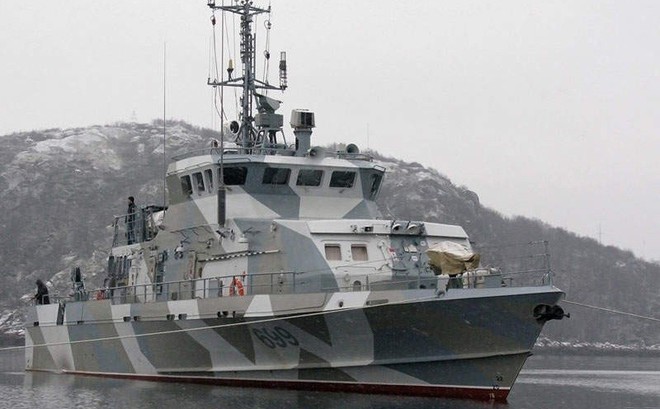 At the DSE Vietnam 2019 Exhibition held in Hanoi, Russia's Rosoboronexport Corporation showed a model of an anti-raid patrol ship under Project 21980E.
As a product of Vympel Design Joint Stock Company, the destructive anti-raid patrol boats of Project 21980 Grachonok class were deployed for the task of protecting the Federal base, harbor and territorial waters. Russia.
This class of warships is also used to combat destructive and terrorist activities at sea, as well as to support the Border Guard in their efforts to protect the national borders. Up to now, the Russian Navy has operated a total of 12 Project 21980 patrol boats.
The fact that Rosoboronexport brought the export version of the patrol ship Project 21980E to display at DSE Exhibition 2019 is considered to offer to Vietnam, when we are currently in need of a functional ship the same, similar.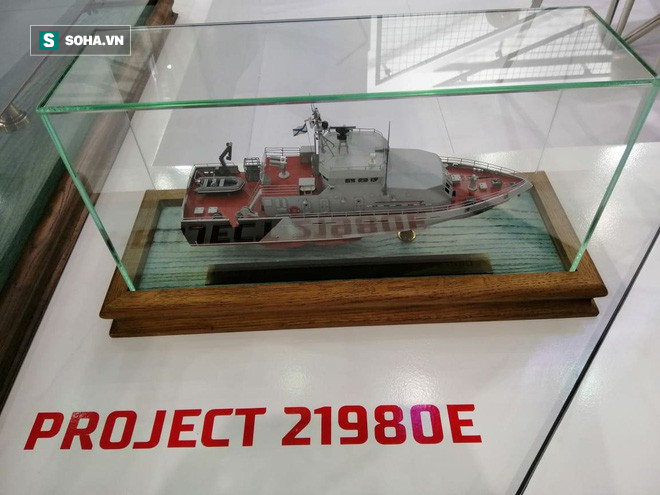 Model of Grachonok anti-command patrol ship – Project 21980E was displayed in Russia at DSE Exhibition 2019. [Photo: Red Star]
Grachonok-class anti-command ship – Project 21980 was newly built in 2008 and deliveries have been taking place since 2009, and they are widely serving in the Russian Navy, including the Baltic Fleet, Pacific Fleet, Black Sea Fleet and Caspian Fleet.
The Ministry of Defense of the Russian Federation has selected three shipbuilding units, the Zelenodolsk plant named Gorky, Vostochnaya Verf Shipyard and Vympel Shipyard to build this patrol ship class.
Zelenodolsk Plant was assigned to build 9 units, while Vostochnaya Verf has built and handed over 3 ships, the remaining Vympel Factory is responsible for building 4 other 21980 Grachonok class ships.
Project 21980 anti-command patrol boat has a body made of steel and the deck is made of aluminum and magnesium alloy. The overall length and width are 31 m and 7.4 m respectively, the draft is 1.85 m. With a displacement of 138 tons, the ship can carry up to 8 people.
The Grachonok-class patrol boats are also provided with advanced navigation and communication devices to effectively detect and track underwater objects. Includes MR-231 Anapa navigation radar, MTC-201 M3 photovoltaic observation system, mini hydro sound system, high power headlights, loudspeakers, sirens and search equipment.
Grachonok's "heart" comes from two diesel engines, two propellers and two generators. The maximum speed that the ship can reach is 23 knots / h, a range of 200 nautical miles, a continuous sea-going time of 5 days.
October 7, 2019